Lawn & Landscape Maintenance Services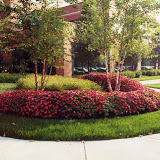 "Professional care by professionals who care".
Your landscape…simply beautiful yet so complicated.
Stately trees, manicured shrubs, colorful annuals, strategically placed planters, green grass, all of these elements require ongoing care to thrive and flourish.
You have spent considerable time and money in creating your beautiful landscape. Protecting that investment needs to be a priority.
Properly maintained grounds keep your guests, customers and staff feeling good and your company image strong.  Choosing the right team for this job is essential because wrong choices can be costly.  Decisions should be based on getting the best results for the dollars you spend. More and more individuals, companies, and organizations are realizing the value of partnering with Pro Care Horticultural Services, our complete line of turf, plant and ornamental maintenance services positions us to be your best single source for your every landscape maintenance need.  You will find that we have raised the bar on quality yet we are cost conscience and keenly aware of your budget to maximize your dollar.
With Pro Care Horticultural Services your landscape budget will be predictable because you will receive established prices with no surprises.  We may not be the largest lawn maintenance supplier out there, but there is no one out there except Pro Care that you can always trust to have your best interest at hand!!
Pro Care Horticultural Services…meeting your high standards for property management since 1972.