Waterfalls, Fountains, and Water Features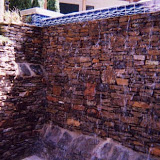 Focal points: singular elements or areas that focus attention. Creating focal points that take your breath away… focal points that act like magnets, drawing you to become engulfed in an experience of the senses, it is a direction that few landscape companies pursue. However, at Pro Care Horticultural Services, we not only have pursued it, we are mastering it. This ability to create something from nothing takes many directions. With water features or fountains as focal points, Pro Care Horticultural Services focuses their considerable knowledge and talent to recreate what you want, where you want it. Nothing is more requested or viewed with such longing or as relaxing or soothing as water in your garden or landscape.
At Pro Care Horticultural Services, we create or supply any water features imaginable plus all that you did not imagine, large or small, in any shape style or form. These self contained environments are built to last and perform flawlessly year after year with minimal care.
Whether your need is in Indianapolis, or the greater Indianapolis area like Carmel, Zionsville, Fishers, or Greenwood just to name a few, or anywhere in Central Indiana…when the need arises, turn to Pro Care Horticultural Services as your trained professionals for waterfalls, fountains and water features.