Plantings, Trees, Shrubs, Grasses, Perennials, Seed & Sod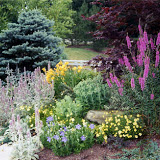 Trees and shrubs as well as groundcovers, grasses, seed or sod, perennials and annuals are the backbone of every landscape. If you crave individuality and need your landscape plantings to be uniquely you, where originality and the unordinary rule, Pro Care Horticultural Services steps up to take the challenge. At Pro Care Horticultural Services, plants are chosen to give year round beauty and perpetual interest through skillful use of colors, texture and form. Because of our extensive maintenance knowledge and first hand experience, we know how to limit your personal maintenance requirements by selecting plants that blend together effortlessly, creating long-term beauty with immediate results.
Even the greatest landscape is only as good as the materials used and the experience of the people building it. We choose the plantings for our installations carefully. We employ trained and careful installation crews with a reputation for making every detail right.
Whether your need is in Indianapolis, Carmel, Zionsville, Fishers, Greenwood or anywhere in Central Indiana when looking for tree and shrub plantings, seeding and sodding, look no farther than Pro Care Horticultural Services for all your planting needs.