Landscape Walls, Fences, Pergolas, Arbors, Trellis, & Landscape Structures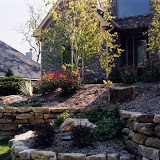 At Pro Care Horticultural Services we realize every property has its own personality, little nuances that make it unique. This personality or lack of enough personality sometimes creates opportunity for landscape elements, like walls, fences or structures that can be used to emphasize particular elements of your property. At Pro Care Horticultural Services this ability to provide "landscape items" like those above either in conjunction with other landscape services or by themselves help us continue to exceed the expectations of our customers by providing more than just plants.
Walls, fences, and landscape structures have many uses whether for stability, privacy, creating delineation in the landscape or any multitude of other uses. At Pro Care Horticultural Services, we have the knowledge, tools, and trained professionals to meet any challenge. Masonry walls created with any conceivable material from concrete, natural stones, bricks and blocks, to tiles, and non masonry walls from natural stacked stone, or man made products, or wood timbers are available to any length or height. The same knowledge and abilities used to create walls as well as master carpentry skills are used by Pro Care Horticultural Services to create unique and challenging landscape fences and landscape structures such as arbors, trellises, swings, porches, pergolas and gazebos. Only limited by our imagination and your budget, at Pro Care Horticultural Services we will accentuate the natural strength of your property while providing an affordable uniquely attractive and long lasting way to ensure your privacy and enhance your security and increase the energy efficiency of your home or business.
If your need is located in Central Indiana, Greater Indianapolis and or the  surrounding communities or anywhere else in the continental United States we might be able to help meet your needs.