Irrigation System Installations, Irrigation System Maintenance, & Monitoring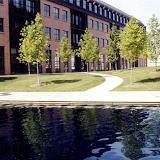 Insuring health and the beauty of your landscape sometimes requires the addition of irrigation systems. Having control of your landscapes' water requirements can be critical to its success. Having the knowledge to determine the type of control and what should or not be watered can only be properly determined by experts with not only knowledge of water hydraulics and dynamics, but also the knowledge of the landscape itself. The knowledge to determine if plants can be watered as group, individually, or not at all, can only be determined by people who understand plants, and their needs.
Understanding what works and what doesn't is what Pro Care Horticultural Services is all about.
Once we've created that perfect irrigation system for your perfect landscape it must be monitored and maintained to ensure maximum efficiency. Adjusting watering times to compensate when mother nature can't be controlled or counted on for consistency, repairing and upgrading the mechanics of the system, and opening or shutting down the system, timely and when appropriate, are services you can expect from Pro Care Horticultural Services.
Pro Care Horticultural Services…striving to meet your unique needs while always respecting your bottom line.
Years of experience have taught us how to maximize the value we deliver for the service we provide.