Water Drainage, Retention, Pond Construction, & Pond Enhancement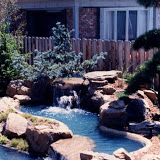 The single most important aspect of any landscape is the proper movement of water. No one thing creates more, short or long term damage than improper water drainage or retention.
At Pro Care Horticultural Services we know every landscape design begins with this understanding. The knowledge needed to control water damage is extensive and overlapping. Our experience in this area can be of great assistance when others have failed to consider the multitude of possibilities. In conjunction with water drainage it became necessary at Pro Care Horticultural Services to become familiar and knowledgeable with pond and lake construction, as well as, pond enhancement. Creating elements like ponds and lakes allow opportunity for water to drain away from where your don't want it when other options don't exist. At Pro Care Horticultural Services we also have extensive abilities to help beautify any ponds, streams, or lakes you may already possess. Taking something ordinary and creating something extraordinary is what we do best. Utilizing a vast array of accumulated technologies and skills making your water problems…no problem.
Give Pro Care Horticultural Services the opportunity to meet your needs.